Ancient Indian Manuscripts are a great repository of human knowledge and human effort encompassing every walk of life, be it Science and Technology, Medicine, Astronomy, Architecture, , Metallurgy, Mathematics, Agriculture, Sculpture, Management, Economics and Ecology.

There are various estimates. But according to the estimation of the National Manuscripts Mission, there are about 5 million manuscripts in both organized and unorganized sector. More than 75% of them are not published, not even edited. Many of the scripts in which they are written are also not read and studied today. More painful fact is that these manuscripts are being eaten away by termites and insects.

Immediate attention has to be paid to preserve, edit and publish the manuscripts for the sake of Knowledge Retrieval, Knowledge Creation and Knowledge dissemination. Students from College and Universities and scholars who have the capability to acquire necessary skill sets are the target group.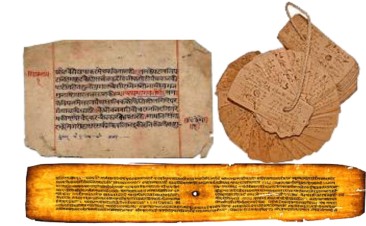 1. There are about 4800 collections/libraries of manuscripts (both private and public) in India.
2. Catalogues of all these manuscripts have not been prepared. It is estimated that about 0.5 million manuscripts have gone abroad. A few million manuscripts are still lying bundled and unattended in villages.
3. One has to be a widely read and profound Samskrit scholar in order to understand/identify the subject of the manuscript! About 0.75 million manuscripts of Kashmir Shaivism are written in Sharada script which a very few people can read today. Even if someone edits a manuscript, there is no publisher because market for it has to be created.
4. Samskrit Publishers do not have a common platform and hence are disorganised.
5. Many institutions work with individual agenda and nationwide coordination is lacking.