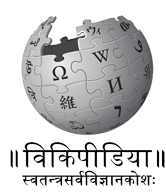 Wikipedia is a free online encyclopedia which can be accessed by any person from any computer with an internet connection. The name "Wikipedia" is derived from the words 'Wiki', meaning "Quick" and 'Pedia' meaning "Knowledge".

It is developed by volunteers or 'Contributors', who are willing to share knowledge on the Internet. Today after just a decade since its inception, Wikipedia attracts over 400 million unique visitors monthly. Wikipedia is multilingual and articles are available in over 280 languages. Along with other projects like Wikisource, Wikiquote, Wikibooks, Wiktionary etc., Wikipedia is now regarded as a single source of information maintained by active contributors.
Since its creation in 2001, Wikipedia has grown rapidly into one of the largest reference website. As of today, there are 37,42,467 articles in English. Samskrit Wikipedia was established in Dec. 2003. But since it's inception, there were only about 4000 articles (as on march 2011), many of which were one-liners and stubs. Samskrita Bharati has embarked on a project to create and contribute extensively to Samskrit Wikipedia in May 2011 and because of the collective efforts of the core team at Aksharam, a good increase in the no of articles has been achieve. As of now, there are total of 7,500 articles in Samskrit Wikipedia and about 4,400 pages in Wikisource.

You could also be a part of this revival mission, by helping to enrich the Samskrit Wikipedia. To know more, Please write to us at samskritwiki@gmail.com or call us 08026641152. Come. Let us join together and complete this Yagnya.


HOW COULD YOU PARTICIPATE:
1. Samskrit Universities could share the articles / research papers / Books which are already published and readily available with them.
2. The Universities / organisations could organize a workshop for their staff and students.
3. The Samskrit teachers / lecturers could write new articles or translate articles from other language sources.
4. Students could be given assignments of writing articles as a part of their academic studies.
5. Technical support could be rendered by those who are proficient in Computer operations and programming.
6. Create awareness among masses about the advantages and utilities of Samskrit Wikipedia.