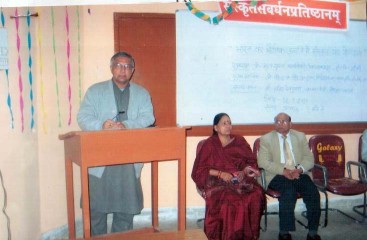 There are about 5 Lakh Samskrit Teachers in the country. The number is encouraging. Unfortunately most of them are not able to communicate in Samskrit. The teachers cannot communicate fluently in the language they teach. Sounds like a paradox but that is the real picture. Also, the fault is not on the teacher. They came thought the same process. Many of them might have written their Samskrit examination either in English or in any other regional languages. This situation is due to the teaching method used for the past 150 years. This is the European method called Grammar Translation Method, in which, Samskrit is taught through other languages.

This is how the Europeans started learning Samskrit. Whether intentional or otherwise this is one major cause for the decline of Samskrit.The first foremost step is to teach Samskrit through Samskrit. Samskrit will flourish only when it is spoken widely. Also modern methods and approaches in teaching language are introduced in Samskrit language the situation cannot be improved.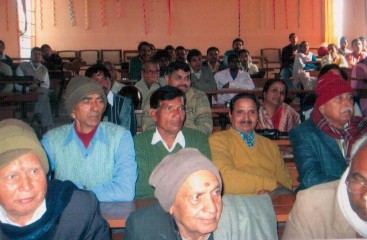 The teaching community is not aware of the damage of teaching a language through another language. There are many experiments done for the past 30 years on this and many teachers who had adopted modern techniques had been greatly benefited. Having practised old technique for a long time, the inertia is high. The propensity to change is low. But once exposed to these new techniques, the teachers are positive and quickly adopt.
All teachers in primary, secondary and college level and in traditional Patasalas will have to be the target audience for this project.